By The Project Foundry
Making Your Digital Healthcare Strategy a Reality
The world of technology and business is always changing, and the idea of digital transformation is evolving alongside it. As businesses worldwide adjust to a more digitally focused environment, the meaning of digital transformation has grown beyond simply implementing new systems and upgrades.
Digital transformation is not just about technology; it's about a changing mindset, agility, and how we foster innovation and adaptability in organisations. Progressive companies are embracing agility to stay ahead of the curve in an era of rapid change.
In an ever-evolving digital landscape, grasping the concept of digital transformation becomes paramount within the healthcare industry. Here, embracing of state-of-the-art digital strategies stands to mould the future of Ireland's healthcare for generations to unfold.
Agility

Agility in business refers to the ability of an organisation to swiftly and effectively adapt to changing circumstances, seize opportunities, and navigate challenges while maintaining optimal performance and customer satisfaction.
Agile challenges the traditional preference for extensive documentation and instead, focuses on practical solutions. This shift translates into quicker deployment of digital projects and a more seamless adaptation to emerging technologies. The result? A business landscape that can swiftly respond to new trends and technologies.
In the grand scheme of things, embracing Agile principles within digital transformation projects cultivates a culture of agility, which empowers businesses to not only welcome change but also anticipate and leverage it.
As we stand at the crossroads of the digital age, the marriage of Agile principles with digital transformation is a strategic move that promises to propel businesses ahead. The future belongs to those who can swiftly adapt, respond, and innovate – and Agile offers the roadmap to get there.
Cutting Edge Technology
Cutting-edge technology serves as the central point around which both modern business and technology landscapes revolve. In the swiftly changing digital world of today, advancements such as AI (Artificial Intelligence), robotics, blockchain, and the metaverse have evolved from being simple tools into powerful catalysts that are reshaping the future of various industries.
"These advances transcend traditional system upgrades, signifying the confluence of innovation and practical application. As businesses venture deeper into the digital ecosystem, understanding and leveraging these cutting-edge technologies become indispensable. They not only shape product and service offerings but also redefine organizational mindsets, catalysing a culture of agility, adaptability, and forward-thinking. In essence, to harness the full potential of digital transformation, embracing these technological vanguards is not an option; it is a strategic imperative for businesses aspiring to lead in an increasingly digital-first world." – Mark Carragher, CTO, The Project Foundry.
Knowing where to Start
Business and technology leaders find themselves tasked with designing new strategies for various reasons. Regardless of the driving force behind any strategy, significant challenges arise when it comes to successful execution.
Many leadership teams find themselves overwhelmed, pulled in multiple directions, making it difficult to define clear paths forward. While it's easy to initiate execution, managing many moving parts cohesively is a formidable task. Balancing business as usual with delivering transformational business outcomes across multiple functions, technologies, and initiatives is not easy.
The Project Foundry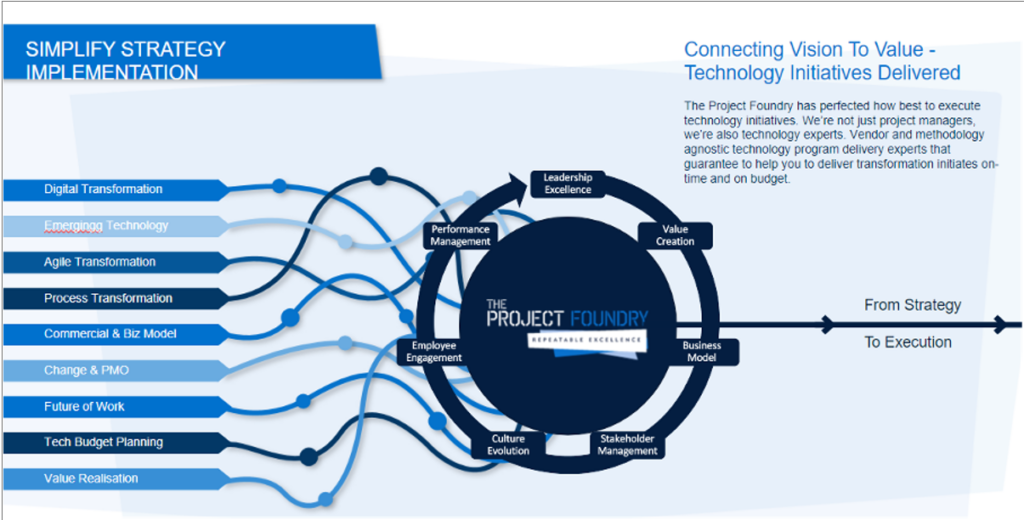 With competing priorities in organisations, many choose to look externally to bolster and lead the digital transformation journey. Our Strategy to Execution transformation model offers an adaptable framework and a repository of best practice tools tailored to meet you where you stand, building the new skills necessary for transformation, value creation and successful execution At The Project Foundry, we specialise in turning your
strategy into reality.
Contact them:
The Project Foundry